FTTH indoor termination box, 2 inlet and 16 oulet port,withour 1x16 PLC splitter and 16pcs adapter
Features
◇2 inlet&16 outlet
◇ Support SC, ST, FC, LC adaptor
◇FTTx application
◇multi-layer design
◇wall or pole mount
Description
The UDM Splitter Terminal box is rugged, low cost, low
profile interconnection between central office and multi-dwelling units of FTTx application.
The design of UDM splitter terminal combines the functionality of a local convergence cabinet with UDM terminal.
Its multi-layer design allows installers to access only the components necessary for initial installation or subscriber turn-up. It can house the splitter and allows for pigtail splicing of distribution/drop cables as needed
Parameter
Indoor or outdoor rated
· Available 1x4, 1x8, 1x16 splitter as well as 2x4, 2x8,2x16 splitter
· Suitable for wall-mounting or pole mountingapplication.
· Max. up 16 pcs of FTTH drop cable or pigtails
· Suitable for wall-mounting or pole mounting application.

· 2 inlet ports and 16 outlet ports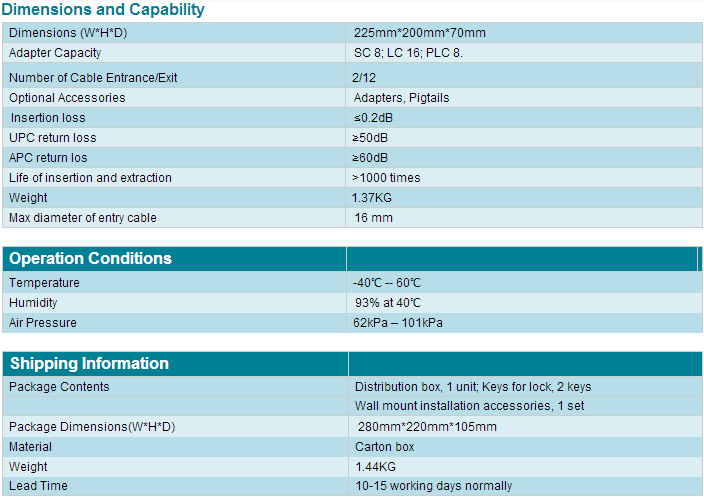 Applications
◇FTTB, FTTH (FTTx)
◇Telecommunication Network
◇Local Area Network
◇ATM
◇CATV
◇HFC